Stockville, Nebraska
Stockville, Nebraska had its beginning as a trading center for the ranchers in the south central region of the state. Organized in 1872 and laid out by W. L. McClary as the county seat of Frontier County, Stockville grew rapidly when homesteaders arrived.
Nearby Medicine Creek was an important waterway for the region. Its valley served as a natural highway between the Republican and Platte Rivers, first by migrating Indian tribes, then soldiers from Fort McPherson as they protected the frontier, and later by homesteaders. Living on a farm near Stockville, W.F. (Doc) Carver, known in the 1880s as America's greatest rifle shot, joined Buffalo Bill's Wild West Show as top marksman. He returned to Stockville in 1883 after leaving the show.
When the railroad came through, it missed Stockville. However, since it was the county seat, the town continued to grow and prosper. In 1890 Stockville's population was 227. By 1900, even without a railroad, Stockville had grown to 269 residents. As of 2010 there are 11 households and 8 families containing just 25 people in Stockville.
The location of county seat has been questioned but survived several attempts to be relocated to Curtis, ten miles to the northwest. County elections kept its Stockville location in 1920, 1930, and again in 1950. At one time the men of Stockville armed themselves to stop an attempt to seize the county files by force and set up shop in another town. The incident ended without violence and the county files remained in Stockville.
The frame courthouse, built in 1889, continues to serve the public. Frontier County's courthouse was the last in the nation to get indoor plumbing, and was also the last to have a paved road leading to it. However, Stockville was settled by people who were conscientious, respectable, and God-fearing persons seeking a better life for their families.
Today, many are devoted to the memory of those who first settled in Stockville as well as the history of this pioneer village. Much of the determination and promise of this unique frontier town may be gone, but the pride is still there.
The authors of this article wish to thank Bernard G. Logan of Lincoln, as most of the information for this article was taken from the article which he wrote and posted on the University of Nebraska-Lincoln Virtual Nebraska web site.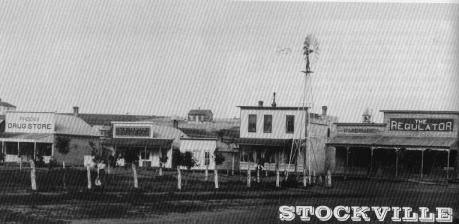 Stockville in its prime.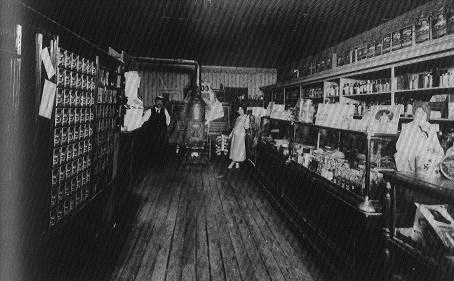 The Phoenix Pharmacy, circa 1925, run by R.D. Logan. He couldn't afford to complete medical school, but served as the "only doctor" in town, never charging for his services. His daughter, Gail, was Stockville's postmaster.