And this is his wish
---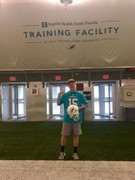 Pake posing right inside the Miami Dolphins Training Facility.
---
Life is 10% what happens to us and 90% how we react to it- Dennis P. Kimbro. For one specific Maywood Senior, this quote comes very true to him. In December of 2014, Pake Johnston found out that he had large tumors growing in his neck. He was diagnosed with Neurofibromatosis Type 2. Although the tumors were not cancerous, Pake would have quite the journey ahead of him on the road to recovery. Not having many options other than to have them surgically removed, Pake took the "bull by its horns" and continued to fight. Since his diagnosis, Pake has had to undergo multiple surgeries every couple of months to remove the tumors. He has also went through several rounds of radiation to make sure that the tumors will not grow larger. As a result of all these surgeries, Pake has had to give up the two things that he holds closest to his heart, sports and rodeo. Pake still follows these two hobbies of his very closely.
Pake's favorite NFL team is the Miami Dolphins! Recently, the Make-A-Wish America Foundation granted Pake his wish of meeting Ndamukong Suh and attending his first ever Miami Dolphins game in Miami, Florida. While in Florida, Pake and his family had the chance to tour the Miami Dolphins Training Facility. He got a full access tour of the facility which included locker rooms, offensive and defensive classrooms, team meeting areas, the weight room as well as the cafeteria. The tour ended at the practice field where Pake was able to watch the Dolphins prepare for their game the next day. At the conclusion of practice, Pake was invited onto the field to run one last play with the Dolphins. Pake lined up to the left as a slot receiver and ran his favorite receiving route, the slant. The Dolphins starting quarterback, Ryan Tannehill, dropped back in the pocket and fired the ball to Pake as he caught it in the endzone for a touchdown. The entire Miami Dolphins team crowded around him in the endzone, chanting PAKE, PAKE, PAKE!
The next day they were picked up by a limo and driven to Hard Rock Stadium for the game against the Arizona Cardinals. Pake was able to go out onto the field for the pregame warmups. Pake got the chance to meet Ndamukong Suh and his family, as well as Warren Buffett, and Dan Marino. Pake was able to get a picture with Warren Buffett, while holding Buffett's wallet. Dan Marino also signed Pake's football as well. Pake also got his own custom Dolphins jersey with his name on the back and his own high school football number. He also received an actual Dolphins helmet that was signed by members of the team!
You never know when life will take something away from you, so we should always be thankful for what we have and enjoy life as much as we can. If we aren't enjoying life, then what are we really doing? As Joe Dirt would say, "Life's a garden, dig it." Below is the video of Pake's Wish that the Miami Dolphin's recorded themselves along with pictures from his trip.