Crayon Day
---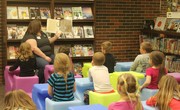 Tasha Wulf, Extension Educator, reads to preschoolers and kindergartners in MPS library
---
The preschoolers and kindergartners were treated to a special day of reading and coloring in the library recently. What was the occasion? Celebrating Crayola Crayon Day. The guest reader was Tasha Wulf, M.Ed., Extension Educator for Nebraska Extension located in Red Willow County. Behind this seemingly simple, hands-on, fun activity were research-based strategies geared to create lifelong learning, discovery and success for early childhood learners.
Ms. Wulf recently wrote that Nothing brings back happy memories of your childhood quite like opening up a brand new box of crayons and seeing all the colorful, pointy tips staring back up at you. I bet if you closed your eyes, you could even remember the smell. According to a study done by Yale University, the scent of Crayola crayons is the 18th most recognizable scents for American adults.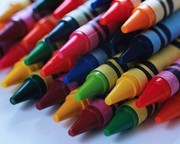 Nebraska Extension is a Division of the Institute of Agriculture and Natural Resources at the University of Nebraska-Lincoln cooperating with the Counties and the United States Department of Agriculture. As Southwest Nebraska's Extension Educator, Ms. Wulf provides regional expertise in developing focused, comprehensive learning programs that result in improved school readiness and enhanced social-emotional growth and development.
So, as Ms. Wulf encourages us to do: Relive old happy childhood memories or help create new ones with your child, by . . . introduc[ing them to] the joys of drawing with crayons. While drawing your child is using their imagination and fine motor skills. Let them think outside the box as they draw. It is okay to wonder what a lake would look like if it was orange instead of blue. Encourage them to tell you a story about their picture.