Who let the dogfish sharks out? Woof, woof, woof, woof!
"Would that be your hook there in that shark's jaws?"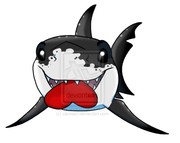 "Arrg . . . yes, it is, matey, but nothing to go dorsal about or lose a fin over. 'Twernt a twenty, twenty-five footer, it's Mr. Sonnenfeld's biology class dissecting dogfish sharks. The sophomores dissected these gregarious, gray creatures to locate and identify their various body parts. If these fascinating bottom-dwellers hadn't ended under the educational scapel, they might have lived up to 100 years. Holy Great Barrier Reef!