This ain't your father's library
Dear Students, Parents and Patrons,
We are rounding out a very busy month in the MPS Library! While the outer world slows down a bit with the changing of the seasons, cooler temperatures and more indoor activities, here at school we are running at full capacity.
Traditionally the library has been a quiet place to read and study, and while that is still true, the ever changing face of digital literacy and technology is reshaping the library as a "learning commons" a place to come together to work, study, research, prepare, create and collaborate. Our students are truly fortunate to be living in a time when information is so readily available. With one-to-one computers, skilled and dedicated teachers, and clear, focused educational goals, we are helping our students to become 21st Century Learners.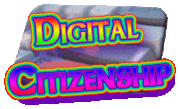 Digital Citizenship is a particular focus that we are all being called to develop and respond to. Students in Library Skills class learn about what it means to create a "clean digital footprint" as well as how to stay safe online. We must become all become familiar with these practices, as we continue to move into a technological advanced society.
One of the concerns that I'd like to address is appropriate internet use. While teachers are tasked with monitoring screen time and making sure students are on-task, we must also empower students to self-monitor their activities as well. It is very easy to get lost in cyberspace, so one of the things I encourage others to do is set a timer. If we are not done with our task/project within an hour, it's a good idea to get up, move, stretch and walk away from the screen anyway. Young students especially will benefit from a timer prompt.
Additionally, many students enjoy playing online games. While these can certainly be entertaining, they can also become huge time wasters. We ask that students refrain from playing games at school on their devices. We also ask that students use their school accounts for school related work, research and study. Many students have personal Google accounts and these may have applications and downloads ties to their personal accounts, so please remind your junior high and high school students to use their school account for educational purposes.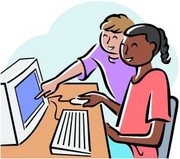 Once students complete their homework activities, we encourage them to work on Compass Learning and of course, we have GREAT novels available. There are many excellent NEW titles this year, covering a wide variety of genres.
APP of the Month:
Popplet or http://popplet.com/ is this month's featured application. Popplet is a digital graphic organizer that has a variety of possibilities for classroom use. Students can use it to research topics, create definitions, design presentation and take notes. It is a very user-friendly program that allows students to work with color, upload pictures, and share live links. It is a free program that requires an email address and password. Popplets can be shared via email or social media.
It is applicable for both children and adults.
Accelerated Reading:
We know students are busy and involved in a variety of activities. We also believe that reading for pleasure is educationally supportive. Once students meet the AR reading goals for their grades they receive a snack and beverage of their choice. The points are not difficult to attain and we love recognizing our "natural readers."
The following details point requirements for each grade:
6th and 7th: 3.5 points per month
8th grade: 4 points
9th grade: 4.5 points
10th grade: 5 points
11th and 12th grade: 5.5 points