"Seventy-six trombones caught the morning sun"
---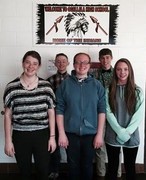 Middle school musicians participating in last weekend's competition are pictured from left, Natalie Koubek, Jonathan Moore, Kizziah Rutherford, Parker Johnston, and Makena Roberts.
---
Okay – so there may not have been 76 trombones, but the 2 MPS trumpeters that attended played like 76 at the annual Ogallala, Nebraska, Middle School solo and ensemble music contest held Saturday, March 12.
In the vocal competition, Natalie Koubek received a superior rating for her vocal solo. Instrumentalists earning superior ratings were Parker Johnston and Jonathan Moore for their respective trumpet solos. MaKena Roberts received the highest rating possible of a superior 1+ for her saxophone solo. Koubek also earned a superior rating for her flute solo. Kizziah Rutherford tapped her way to an excellent rating with her snare drum solo. Finishing the successful run with a rating of excellent were Johnston and Moore with their trumpet duet.
"I couldn't be more pleased with our students' performances, " stated Tonya Welch, Maywood's music teacher. Welch went on to add that "this was great experience for these guys, and will prepare them for district competitions at the high school level."
Results:
Parker Johnston, Trumpet Solo - Superior
Jonathan Moore, Trumpet Solo - Superior
MaKena Roberts, Alto Sax Solo - Superior+
Natalie Koubek, Flute Solo - Superior
Kizziah Rutherford, Snare Drum Solo - Excellent
Natalie Koubek, Vocal Solo - Superior
Parker Johnston/Jonathan Moore, Trumpet Duet - Excellent