Classroom Happenings
Maywood FFA Chapter and Ag Education Department - Miss Armstrong
Greetings from the Maywood FFA Chapter and Ag Education Department! FFA is an important aspect of any Agriculture Education program but isn't possible without having classroom time! All Ag classes attended Growing Career Opportunities in Agriculture at Eustis-Farnam High School on September 10th. Students were able to hear from local industry professionals about career opportunities in Frontier and Dawson counties. Each Ag class is studying different topics in the agriculture industry. Our Animal Science classes have begun their year with studying the swine industry. Topics of discussions have been breeds, facility maintenance, growth stages, operation types, and nutrition. The Ag Business class has been exploring various "inputs" in the Ag industry along with taking an in depth look at equipment companies. Plant Science students are looking at the fundamentals of soil science. History of the FFA along with the FFA Creed has been the task that the Intro to Ag class has worked on. And finally, the Ag Leadership class has developed strategies for goal setting and identifying various leadership styles.
The summer was busy with the officer team attending Chapter Officer Leadership Training conference, members showing at county and state fairs, preparing activities for the school year, and beginning preparations for upcoming land judging and livestock judging contests. The Maywood FFA Chapter was one of three chapters selected to work the John Deere booth at Husker Harvest Days this year. Five students attended to represent the Maywood Chapter. Upcoming events for members include Area Land Judging on October 7th, Southern Valley Livestock Judging Contest on October 17th, District XI Fall Career Development Events (livestock evaluation, natural resources, biotechnology, & agri-science) on October 20th, and Feed the Farmer-TBD. Towards the end of October, select members will be attending the 88th National FFA Convention. As always, feel free to stop in and see what is happening in our classroom!
6th Grade Science - Mrs. Bauer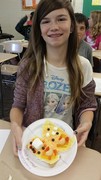 The 6th Graders have been learning the different parts and functions of animal and plant cells. To help explain and show the difference between the two cells, we built models of each out of food. Each student got the same amounts of food and the same food items, but their interpretations of where they were placed inside their cells were different. We used the following food to explain the following parts in the plant and animal cells.After all the cells were constructed, each student was able to walk around and see his classmates' version of the cells. They were then able to enjoy their cells by eating them if they chose to.
| | |
| --- | --- |
| Animal Cell | Plant Cell |
| Cell Membrane-Tortilla shell | Cell Wall-Graham Cracker |
| Cytoplasm-Vanilla Pudding | Cell Membrane-Tortilla shell |
| Nucleus-Vanilla Wafer | Cytoplasm-Vanilla Pudding |
| ER-Gummy Worms | Nucleus-Vanilla Wafer |
| Mitochondria-Chocolate Chips | ER-Gummy Worms |
| Ribosomes-Sprinkles | Mitochondria-Chocolate Chips |
| Vacuole-Small Marshmallows | Ribosomes-Sprinklers |
| | Vacuole-Large Marshmallows |
| | Chloroplast-Sixlets |
History Dept. - Mr. Carroll
Within our World History classroom, we are working with new textbooks this year. The students are really enjoying this; however, it took them a while to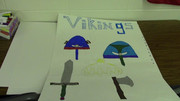 get a full understanding of how it will work and what to expect. Most teachers love giving the students an opportunity to teach their fellow classmates the material in ways that they feel is best for learning. So what better way to accomplish this then by channeling students' creative abilities to teach material. with learning how to use our new textbooks!
To do this, students were given a section of the first chapter we would cover for the year. It was then their job to create a poster that would help each other understand the material while learning what information to look for within the book that would help. Each student created amazing work, while at the same time finding ways to learn material from each other, and not from me on a daily basis. Each student really enjoyed the project, and really put his best work forward to make sure this was a success.
Digital Media - Mrs. Arent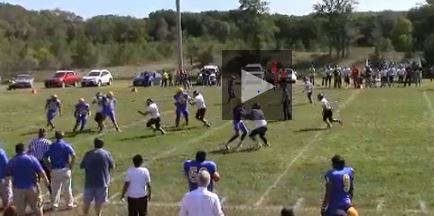 You may have heard the buzz about this year's sports and activities events being made available to watch on the internet. Several of the Maywood-Hayes Center Wolves games are being broadcast on the Cube. To do this a special video camera was purchased and students quickly learned how to best film an event. An added feature is the live audio feed which allows patrons to enjoy play-by-play commentary. Student, Dillion Bomberger and history teacher, Kyle Carroll, are our 'eyes and voice' of the Maywood-Hayes Center Wolves!
To access this site, can go to thecube.com and follow the Wolves. You can also go to the school's Facebook page and click on the link to view the games. From these videos, the Digital Media class will be working on highlight videos for the teams, players, and for the website. The class had some computer/program issues at the start, but we are now headed in the right direction. Check our school website for updates.
As you can see, there are many exciting things happening at MPS. Visit the MPS home page often to see what's haapening in and out of the clasrooms!