MCC Paint-In earns Van Drimmelen 2nd place
---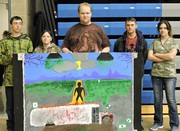 This painting created by the group in response to music.
---
The Peter and Dolores Graff Events Center at McCook Community College hosted art students from nearly two dozen area high schools when the MCC Art Department staged its annual paint-in competition. The theme for this year's paint-in was "What does the song look like…?" Students were encouraged to paint their visual interpretation of the song "Radioactive" by Imagine Dragons. Students were asked to create artwork that had a visual impact on the viewer to educate them on the audio message of this topic, known as visual literacy or the didactic function of art. Maywood's Tori Van Drimmelen earned 2nd place in Three-Dimensional for "Op the eye – illusion" [not pictured].
Schools participating in this year's paint-in competition included: Southwest, Hayes Center, Chase County, Cambridge, Southern Valley, Gothenburg, Norton Community, McCook, Hitchcock County; Medicine Valley, Callaway, Sutherland, Ogallala, Wauneta-Palisade, Arnold, Maywood, Dundy County, Wallace and Lexington.
The McCook Community College Peter & Dolores Graff Events Center is a newly constructed 2-story building that provides the college a multi-functional space to support college, high school and community activities and programs including academic contests.. The paint-in began at 9:30 a.m. and ended at noon. The current area high school paint in exhibition is open to the public. The Wrightstone Gallery is open from 8 a.m.-5 p.m. Monday through Friday and Tuesday and Thursdays until 9 p.m.
The authors of this article wish to thank Brent Cobb as much of the information for this article was taken from the article which he wrote and posted on the Mid-Plains Community College web site.
Read more: http://www.mpcc.edu/post.cfm/mcc-paint-in-competition-friday#ixzz3a2TOsk4r