Jr/Sr High Book of the Month
Variant by Robison Wells
Wells introduces Benson Fisher, a teen in search of a "real" life instead of a long series of unwanted foster homes--but instead of the utopia he's searching for, he finds the direct opposite. Benson thinks he's found the perfect school in Maxfield Academy, a private school in the wilds of New Mexico. Winning a scholarship with unexpected ease, he looks forward to establishing real friendships and getting a good education at last. What he finds, however, is far from normal.Within minutes of the front doors closing--and locking--behind him, he finds himself in a fight for his life. He joins a gang, the Variants, just to survive. With no adults on campus, classes are taught by fellow students, punishments are passed on by computer and nothing seems to follow a logical path. Benson decides it's time to make a run for it, until he finds out that no one makes it out of Maxfield...not alive, at any rate. Benson's account unfolds in a speedy, unadorned first person, doling information out to readers as he learns it himself. Hard to put down from the very first page, this fast-paced novel with Stepford overtones answers only some of the questions it poses, holding some of the most tantalizing open for the next installment in a series that is anything but ordinary. (Thriller. 12 & up) ~ Kirkus Reviews September 15, 2011
Elementary Book of the Month:
Good Boy Fergus! by David Shanno
Fergus, the West Highland Terrier who appears in many David Shannon books, finally has a story of his own. Fergus has a busy day full of all the things little dogs love to do. He chases a cat until he has to be carried inside. He does tricks for a treat. He rides with his head out the car window and is left with a new hairdo. When his owner eats, Fergus begs for food. A day is not complete without the excitement of a walk. Finally, he is treated to dinner with whipped cream on top. Fergus' owner is never fully seen in the illustrations, but readers know that it is Shannon. Told in the style of the David books, there is minimal text and a repeated phrase: "Good Dog, Fergus." Readers are left to use the illustrations to fill in the rest of the story. The illustrations are bold and colorful and will hold the attention of young readers. Teachers and students alike will enjoy this story of a day in the life of a happy little dog. Christine Markley, Librarian, Washington Elementary, Barto, Pennsylvania, Library Media Connection.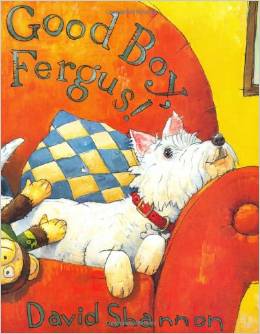 Website of the Month: DK Find Out
Warmer temperatures, longer days, the possibility of rain, and birds chirping are all aspects that make us think of Spring. One of my favorite seasonal symbols to look for, listen to and read about are birds. This month's featured digital resource lists a collection of our links about our feathered friends. Check out http://www.dkfindout.com/us/animals-and-nature/birds/ to begin birdwatching from the comfort of your computer or smart phone!
We are excited to share this excellent resource. DK, known as one of the "world's leading illustrated reference publisher," presents a fantastic informational website where beginners and/or experts locate information for research and inquiry. DK Find Out is a free website that offers subscription for parents and teachers. It is user friendly with clear, sharp graphics, easy-to-navigate links, with concise information. Please visit http://www.dkfindout.com/us/
March Accelerated Readers
Congratulations to the following students for meeting the point requirements:
6th Grade:
Davi Dodson
Garrett Foster
Matthew Jacobs
Angel Padilla
Reagan Williams
Jaden Wolfe
7th Grade:
Nolan Benjamin
Violet Howard
Natalie Koubek
Makena Roberts
8th Grade:
Mariah Schneider
9th Grade:
Amanda Smith
10th Grade:
Bryar Gerlach
Kaely Perkins
Bailey Brown
Marisa Foster
Isaiah Smith
Dylon Strobel
Calyn Werkmeister
12th Grade:
Jon Snider
Watch the May Update for information on Summer Reading!