Many Changes in the Media Center
Welcome Back Maywood Tiger Students! The Media Center has undergone an amazing transformation over the summer. We are very excited for everyone to come in and take a look. In addition to the physical upgrade, we've updated the virtual media center as well. With the one-to-one computers for our junior and high school students, everyone has the option to search for books and research selections online. The Follett Destiny program is a fantastic, stream-lined system that will allow our students and teachers to utilize resources very efficiently. We're REALLY excited to share that students are now able to check out e-books. We have 100 selections that have been added to the Follett Shelf.
We have some great new titles in the Library for all reading levels. Senior High selections include novels by Paul Volponi, Michael Vey, Holly Black and Ann Brashares. Junior Fiction authors are Matthew J. Kirby, Mary Pope Osborne, Jessica Day George, and Sheila Turnage. Elementary authors include Jenny Offill, Mark Kelly, Chris Van Dusen and Jenni Desmond. We've selected a wide, interesting variety of books to support all levels and interests of readers. We are really pleased to offer updated selections, our students will find there are many great books to choose from.
September Books of the Month:
Elementary: Sparky by Jenny Offill and Chris Appelhans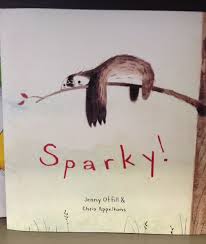 From School Library Journal: PreS-Gr 1—A persistent girl asks for a pet until her mother finally relents with a caveat: "You can have any pet you want as long as it doesn't need to be walked or bathed or fed." The school librarian leads the girl to the S volume of the animal encyclopedia, where she discovers the sloth, a creature that barely moves. When her sloth arrives, she names him Sparky, a moniker that suggests energy (unlike her new pet). The girl attempts to impose many un-sloth-like qualities on the quiet creature, playing several games with him that he is bound to lose (except for "Statue") and planning an elaborate Trained Sloth Extravaganza that is hardly eventful. While there are several attempts at humor in the text, ultimately this book is a little sad. The girl only reluctantly accepts that her pet sloth basically does nothing, and rather than embracing this quality, she finishes the book by starting a game of tag with her pet. Well-rendered watercolor and pencil illustrations in subdued hues of brown, green, and red depict a slight, spritely girl and an inexpressive sloth, and therein lies another problem with this book. Sloths are cute and huggable, but this one merely looks lost until the last page when he finally smiles a bit. For children interested in sloths, Lucy Cooke's A Little Book of Sloth (S & S, 2013) is a much better choice, and it includes a reminder that "sloths belong in the wild and should never be kept as pets." Additional.—Teri Markson, Los Angeles Public Library
High School: Divergent by Veronica Roth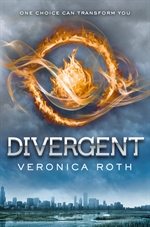 From School Library Journal: Gr 9 Up-In the dystopian Chicago setting of Roth's novel (Katherine Tegen Bks., 2011), the population is divided into five factions. Upon declaring allegiance to one of them, 16-year-old Beatrice will decide her future. Beatrice and her brother, Caleb, grew up in helpful, unassuming Abnegation, always putting others first. During her aptitude testing, a simulation probes her suitability for Abnegation, Amity, Candor, Dauntless, and Erudite. Rather than getting a clear reading of her strengths, Beatrice's result is disturbing and dangerous: she is Divergent. At the choosing ceremony, the teenager impulsively joins Dauntless, the tattooed "hellions" whose value is bravery, and who protect the community. Beatrice, now called Tris, finds she feels brilliantly alive in Dauntless, even during the brutal training. She enjoys seeing her muscles harden, testing her courage, protecting the underdog, and working her way up the ranks of recruits. Making both friends and enemies, she moves through simulations tailored to trigger her Fear Landscape. Gradually, her Divergence shows itself, allowing Tris to see that the faction-dominated world isn't as wonderful as she has been told. The likeable characters, excellent pacing, and blooming romance will have listeners hooked. Emma Galvin's youthful voice has a twinge of huskiness that lends itself to voicing both young men and women.