Maywood's Annual Hometown Christmas: an Old Fashioned Experience
---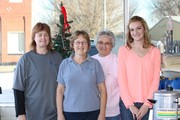 Click on the picture to see the slideshow of pictures.
---
There is something magical and nostalgic about holidays spent in small towns. Perhaps it is the fact that less time is spent in traffic and more time is spent in the kitchen or up on a ladder hanging lights and wreaths. In addition, small-towners tend to hang on to "the-way-it's-always-been-done" spirit long enough for rituals and celebrations to become traditions. Grandmothers and mothers hand down their recipes or secrets of why their pie crusts, cakes or cookies are better than anyone else's. This time of year homes smell of butter, sugar, cinnamon and bread; there isn't a scented candle today to take the place of those aromas. Christmastime is a wonderful opportunity for parents and elders of the community to model and pass on to future generations the rituals and traditions of this sacred celebration. Decorating the house and yard, putting up the tree, cooking, baking, shopping, wrapping gifts, mailing Christmas cards, singing carols and driving through neighborhoods just to look at the lights.
This small town magic is still seen and enjoyed in Maywood, with the Maywood Annual Hometown Christmas. On Thursday, December 11th their doors to celebrate Christmas with the community. From 9:00 – 4:00 patrons were treated to tables of assorted treats and snacks as well as giveaways and raffles. Each business was trimmed out neatly for the holiday with Christmas trees, ornaments, and tables heaped with festive food and beverages. Visitors traded news of the day, recipes, weather forecasts and livestock markets, how the children and grandchildren are, where the grown children are living, who recently got married and to whom, and who has recently passed away. It was a time-honored tradition of visiting and listening and catching up with each other.
That's what makes Maywood's Hometown Christmas unique. When patrons walk down main street and enter the businesses, they know the owners and employees by name. They are acquaintances, friends and sometimes family. They attend the same churches, shop in the same stores; their children attend the same schools. Entering the local market or bank means more than just conducting business; it means taking a pause from the hectic pace of the modern world and truly engaging with others. Maywood Public Schools would like to wish the community a blessed and peaceful Christmas and to thank the following businesses for keeping this warm, friendly tradition alive and well:
Maywood Insurance
Farmers State Bank
Ag Valley Coop
Farmers Union Insurance
Maywood Market
VFW
Maywood Community Hall
Keeping Alive that Old-Fashioned Christmas Spirit
Even in today's sometimes jaded culture, there remains a solemn mystery to Christmas Eve night, as if something special was truly about to happen. One only has to look at the faces of the children with anticipation in their eyes hoping they will actually see Santa in his sleigh. Our imagination does not have to run far to envision a tiny baby being placed in a manger filled with hay, and the warm breath of cows and donkeys chasing away the chill of winter. There are blessings all around. At the same time, most of us would agree that Christmas has become the opposite of what it is supposed to be, a time of joy, celebration and family turned into a stressful, over-commercialized few weeks that at least some of us wish would never come at all. Most of us just wish we could go back to celebrating Christmas the way it used to be celebrated, and that we could bring back the time when Christmas was all about simple celebrations, family and honoring the real reasons for the season. So whether we live in a small town like Maywood or a larger town or city, we can make conscious choices to keep the holidays simpler and lower the stress.
Having a more old-fashioned family Christmas means being willing to spend time making gifts rather than buying them, to spend time with family rather than providing a gift overload. Though it does take time and effort, in the end this investment will help you to put the joy back into your Christmas celebrations.
Spend More Time Together: a few suggestions
1) The holidays are a time of celebration, and there is no better way than celebrating with family. Commit yourself to spending time with family during this season and letting it be a blessing to both you and those you spend that time with.
2) Make Cookies with Your Kids- Do it for fun not because it is expected; better yet teach them how to make cookies!
3) Make Christmas Ornaments – These are fun to make, easy, and can be given away as a way to brighten someone else's Christmas. Even the kids can help make ornaments to give to teachers and their friends.
4) Have Christmas Dinner on Christmas Eve and spend the entire Christmas day with your family. Either volunteer or get down on the floor with your kids and play with them, either way they will get the message that relationships are more important than performance.
5) Go Caroling – Take your family Christmas Caroling to a nursing home or homeless shelter.
6) Drive around and look at the Christmas lights, play Christmas music and stop for hot cocoa.
7) Make Popcorn Garlands - take the time to enjoy this age old tradition with your kids
8) Play Christmas music and teach the kids how to sing your favorite Christmas songs.
9) Involve everyone in choosing a tree and decorating it, even better go out to the woods and cut your own this year.
10) Have your kids draw pictures, make cards and color pictures to send to family and friends.