Congratulations to November's Students of the Month
---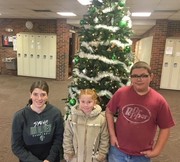 Natalie Koubek, Cali Rutherford, Waylon Fackler
---
ELEMENTARY WINNER
Cali Rutherford
Nominated by Mrs. Schaeffer
RESPONSIBLE - Cali Rutherford has been a very responsible student in my classroom this school year. She has always come to school ready to learn. In addition, she has completed all school work and homework on time. Cali strives to do her very best on each assignment. Cali also follows all school and classroom rules which helps to keep both herself and others around her safe.
RESPECTFUL - Cali is very respectful to students and adults at school. She uses kind words when talking with others. She also thinks before she acts so that she can make decisions that will lead to positive results. Cali listens to her teachers and tries to follow directions as well as she can. Cali also tries to reach out to other students when they are feeling sad to help cheer them up.
SAFE - Cali Rutherford follows all school and classroom rules. She also does a great job of listening to teachers and other adults at school. Cali has never had an office referral and I have not had any issues with her walking to and from classes or out on the playground. She tries hard to do her best each day and this helps to keep all of the students around her happy, healthy, and safe.
MIDDLE SCHOOL WINNER
Waylon Fackler
Nominated by Mrs. Brown
RESPONSIBLE - Waylon consistently comes to class prepared and ready to learn. He uses class time wisely and if he finishes early with an assignment he will read a book. Waylon asks questions to gain deeper understanding and knowledge and is engaged in his learning. He does not need to be told twice to complete a task. He is also willing to help other students.
RESPECTFUL - I believe Waylon is one of the most polite students at Maywood Public Schools. He can be heard saying "excuse me" when around others. He always addresses adults properly. He does not blurt out answers and raises his hand to be called on. If other students are not following classroom rules, he is not afraid to remind them, respectfully, to follow those rules. He respects the school and its property. He also takes care of himself and his belongings.
SAFE - Waylon is helpful to others. I trust him with my and the school belongings. He greets others in a positive manner and he behaves himself in the hallways and commons.
ADDITIONAL COMMENTS - I enjoy Waylon in class. He is not afraid to let his opinions or feelings known when we have class discussions. However, he always listens to the other side of a topic and I feel that even if he does not agree with their opinion, he does respect it.
HIGH SCHOOL WINNER
Natalie Koubek
Nominated by Mrs. Stengel
RESPONSIBLE - Natalie ALWAYS helps with absolutely anything she can. In classes, hallways, practice, etc., she doesn't hesitate to lend a hand.
RESPECTFUL - Natalie is kind to others, polite in asking for anything, and represents our school with pride during school activities.
SAFE - When other students are upset, Natalie listens and offers suggestions.
ADDITIONAL COMMENTS - Natalie isn't afraid to voice her opinion and stand her ground. All of her qualities make her a dynamic, stand-out student.
Other students nominated- Ally Wright, Taren Sailor, Mykel Brown, Jaylyn McDermott, Steven Werkmeister, Ryan Werkmeister, Haydn Farr, Tasia Walker, Maddie Doyle, Kiley Hejtmanek, Pryce Johnston, Nathan Renner, Emmy Oldham, Kaitlyn McGuire, Sanne Berren, Colton Hodges, Moa Magnusson, Jason McIntosh, and Juan Baeza.