April Students of the Month
---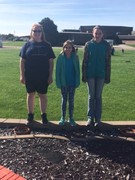 Pictured from left to right: Kizziah, Graci and Maddie.
---
9-12th Grade Winner-KIZZIAH
Kizziah: Nominated by Abby
Comments by Mrs. Brown
RESPONSIBLE - Kizziah has done an excellent job of staying on top of her homework assignments and doing all work that is asked of her. If she does not understand a concept, she comes and asks questions. She takes care of her things and is responsible in class.
RESPECTFUL - Kizziah never hesitates to say hello. She is one to give high fives to those passing her in the hallways and easily shares her smile! She is not mean to other students and does not bother or start conflicts with other students.
SAFE - Kizziah follows all school rules. She does not have to be told to keep her hands to herself. I know of no instances of her being sent to the office or serving a detention because of behavior.
ADDITIONAL COMMENTS - I enjoy having Kizziah in class. She often brings a smile to my face.
6-8th Grade Winner-MADDIE
Maddie: Nominated by Janice
Comments by Mrs. Arent
RESPONSIBLE - Maddie is always prepared for class. She follows directions and does what is asked of her. She doesn't get in the middle of other people's drama. She is responsible for herself and does what is expected of her.
RESPECTFUL - Maddie is respectful to her teachers and other students. She behaves appropriately and notifies the teacher when there is a problem with the internet or her computer in a respectful manner. She is never demanding or rude.
SAFE - Maddie follows the rules and keeps her hands and feet to herself. She doesn't do anything to endanger herself or her classmates.
ADDITIONAL COMMENTS - Maddie is very pleasant young woman and a pleasure to have in class.
PK-5th Grade Winner-GRACI
Graci: Nominated by Jill
Comments by Mrs. Schaeffer
RESPONSIBLE - Graci is a very responsible student in my classroom. She comes to school each day ready to learn. She completes her assignments on time and to the best of her ability. Graci takes an active role in her education and participates in class discussions and activities without being prompted. She also follows all school and classroom rules.
RESPECTFUL - Graci is respectful to both students and adults. She is attentive when others are speaking to her, both in and out of the classroom setting. Graci is polite and friendly to everyone she meets. She uses kind and positive words when talking to others. Graci is a trustworthy and honest student that is a joy to have in the classroom.
SAFE - Graci follows all school, classroom, and playground rules. She consistently makes good choices throughout each school day that help keep her happy and safe. She thinks through each situation before she acts so that she can make a positive decision.
ADDITIONAL COMMENTS - Graci has a positive attitude that is fun to have in the classroom. She is excited about learning new things and is always looking forward to each new day at school. Graci is a great role model for others and leads by example in the classroom by continuing to make good decisions.