"Earth" without art, is just "eh"
---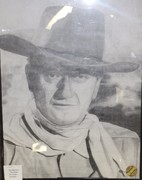 "That'll be far enough, Pilgrim."
---
Recently, several Maywood students entered their art work for the Republican Plains Activities Conference (RPAC) Art Show. This show is held every year during the third week of January. The Art Show took place in Cambridge. Art teachers from around the conference entered their students art work to be judged. Listed below are the 2017 results for the 15 Conference schools that participated.
RPAC Art Show Results: January 18, 2017
Alma,
Medal winner: Maddie Brugh, "The Hope Within" acrylic
1st Honorable Mention: Hallie Prickett, "Gaze" acrylic
2nd Honorable Mention: Kelsey Kermmoade, "The Seeker's Catch" acrylic
3rd Honorable Mention: Alissa Vlach, "Queen of the Forest" colored pencil
Arapahoe,
Medal winner: Lauren Bahe, "Elephant" printmaking
1st Honorable Mention: Allyson Nelson, "Flower" colored pencil
2nd Honorable Mention: Desteny Miller, "Owl" watercolor
3rd Honorable Mention: Alex Lee, "Cat" mixed media
Bertrand,
Medal winner: Kaitlyn Ryan, "Tip" acrylic
1st Honorable Mention: Cassidy Ryan, "Pug" acrylic
2nd Honorable Mention: Rachel Erickson, "Midnight Blue" acrylic
3rd Honorable Mention: Rachel Erickson, "Beyond the Sea" acrylic
Cambridge,
Medal winner: Audrey Paisley, "Nightwatcher" white charcoal
1st Honorable Mention: Rylee Cross, "Dennis" white charcoal
2nd Honorable Mention: Brittney Williams, "Pete" oil
3rd Honorable Mention: Taylor Sayer, "Ryan Reynolds, pencil
Dundy County-Stratton,
Medal winner: Madison Lambley, "Striped Knight" oil
1st Honorable Mention: Dominique Shipman, "Sneakers" white charcoal
2nd Honorable Mention: Dominique Shipman, "Mame Doggo" pencil
3rd Honorable Mention: Dominique Shipman, "Bully" acrylic
Hayes Center,
Medal winner: Ethan Broker, "Roo" acrylic
1st Honorable Mention: Isabel Guerra, "Isabel" ink pen
2nd Honorable Mention: Sophia Johnson, "Foxy" oil pastel
3rd Honorable Mention: Sophia Johnson, "Twinkles" mixed media
Hitchcock County,
Medal winner: June Brusoe, "#3 Mask" pencil
1st Honorable Mention: Angel Beegle, "Harv" pencil
2nd Honorable Mention: Jayda Dwyer, "Midnight Rain" acrylic
3rd Honorable Mention: Tara Oberg, "Al Fredo" fused glass
Maxwell,
Medal winner: Elie Madsen, "The Duke" graphite
1st Honorable Mention: Elie Madsen, "Confusion" marker
2nd Honorable Mention: Madison Merritt, "Tiffany" graphite
3rd Honorable Mention: Morgan Mcgehee, "Bright Lights" marker
Maywood,
Medal winner: JC VanDrimmelen, "No Holding Back" mixed media
1st Honorable Mention: Kaely Perkins, "Extraterrestrial" (long) spray paint
2nd Honorable Mention: Kaely Perkins, "Extraterrestrial" (short) spray paint
3rd Honorable Mention: Maci Sorge, The Balance" mixed media
Medicine Valley,
Medal winner: Ali Hughes, "Blood of the Lion" acrylic
1st Honorable Mention: Kellan Garey, "Blue Day" acrylic
2nd Honorable Mention: No entry
3rd Honorable Mention: No entry
Paxton,
Medal winner: Olivia Bergen, "King and Queen of the Valley" acrylic
1st Honorable Mention: Olivia Bergen, "Lad" pencil
2nd Honorable Mention: Braden Foster, "Strutin' " white charcoal
3rd Honorable Mention: Taylor Dack, "Under the Sea" colored pencil
Southern Valley,
Medal winner: Lindsey Shearer, "Self-Portrait" graphite
1st Honorable Mention: Makenna Hunt, "Blue Force" watercolor
2nd Honorable Mention: Gabe Haase, "Cool Forest" watercolor
3rd Honorable Mention: Group drawing: Elijah Brown, Blake Burns, Matthew Frederickson, Haley Skiles, Carlee Thompson, "Colossal Classic Modern Castle" Ink
Southwest,
Medal winner: Kailee Miller, "Fishy" batik
1st Honorable Mention: Ashley Kragelund, "Butterfly and Tulips" batik
2nd Honorable Mention: Junior Morquecho, "Bear and Wolf" ink
3rd Honorable Mention: Kailee Miller, "Leo" pencil
Wallace,
Medal winner: Myah McConnell, "Kit Kat Keys" colored pencil
1st Honorable Mention: Jasmine Dannar, "Red Umbrella" acrylic
2nd Honorable Mention: Jasmine Dannar, "Oh Deer" sharpie marker
3rd Honorable Mention: Myah McConnell, "Oh Deer" colored pencil
Wauneta-Palisade,
Medal winner: Colton Barrett, "Flag" acrylic
1st Honorable Mention: Lanee Nordhausen, "Eyes" pencil
2nd Honorable Mention: Jayden Ingold, "Eye" pencil
3rd Honorable Mention: Jayden Ingold, "Cow" acrylic
Best of RPAC Show: "Blood of the Lion," Ali Hughes, Medicine Valley, Acrylic