January students of the month
---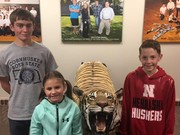 From left to right, Tucker Hartley-Senior, Adalyn Schurr-2nd grade, & Jhett Sellers-6th grade.
---
9-12th Grade Winner
Tucker Hartley: Nominated By Mr. Sonnenfeld
Comments by Mr. Sonnenfeld:
RESPONSIBILITY - Tucker always works to complete his assignments on time, and more importantly, he takes time out of his schedule whenever he has questions over an assignment. Tucker also works to help his classmates understand concepts and process new information to help them succeed.
RESPECTFUL - Tucker comes to class with a positive attitude every day and works to keep the classroom atmosphere a conducive learning environment.
SAFETY - Tucker practices safe procedure in lab settings, preventing problems from arising.
6-8th Grade Winner
Jhett Sellers: Nominated by Ms. Reece
Comments by Ms. Reece:
RESPONSIBILITY- Jhett is a very responsible student. He always asks solid, clear questions in class. He's done a great job of integrating technology and using Google Docs. Students are invited to submit computer generated word documents and Jhett has done an outstanding job of creating documents and emailing them. His work is neat, concise and well thought out.
RESPECTFUL- Jhett is respectful to his classmates and teachers. He is polite, he listens, smiles, pays attention in class and does not interrupt.
SAFETY- Jhett is safe in school. He walks in the hallways, doesn't disrupt class, doesn't interrupt others when speaking and is quiet.
ADDITIONAL COMMENTS- I've enjoyed working with Jhett. He's reliable, honest and he works hard. He gets his work done, takes his time and does a good job and shows a genuine interest in what he's doing. He's a fun kid to have in class.
PK-5th Grade Winner
Adalyn Schurr: Nominated by Mrs. Arent
Comments by Mrs. Arent:
RESPONSIBILITY -Adalyn always puts forth her best effort. She works diligently, while always trying to use the correct technique. It doesn't matter if she is the first one done, but that she has done her work accurately.
RESPECTFUL -Adalyn always listens carefully and follows directions. She is respectful and doesn't talk out of turn. She is a great role model for her classmates.
SAFETY -Adalyn follows the rules and keeps her hands and feet to herself. She sits quietly in her seat without disrupting other students.