I knew I should have stayed home.
---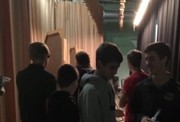 MPS one act moments before curtains open
---
The Maywood High School One-Act team had solid performances this year. Directed by Mr. Carroll and Mrs. Welch, the students performed 10 Reasons You Should've Stayed Home Sick. "After the first read-thru it was clear the actors were excited about the play which helped us perform better and place higher at conference and district," stated Mrs. Welch. She went on to say that 10 Reasons You Should've Stayed Home Sick was a fun play and that Maywood got tremendous compliments from the audiences and judges about our selection. One of the things that was consistently said by the judges at both conference and district was that it was very clear the actors were having fun with their performance which in turn made the play very enjoyable for the audience, and that is one of the most important and often challenging things about performing on stage. "I'm proud to say our actors mastered that with this production!" said Mrs. Welch.
"We had showed a lot of improvement over the past couple years. The play was great, we gave the kids the opportunity to choose what we did for the play and believe that made them more encouraged to do better and try harder. We came in 6th at conference and 7th at districts, which hadn't happened in a while, we usually came in 8th at both," stated Mr. Carroll.