Congratulations to our November students of the month!
---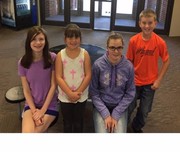 L-R are Mackenzie Nelsen, Taren Sailor, Carol Nielsen, and Nathan Renner
---
9-12th Grade Winner: Carol Nielsen
6-8th Grade Winner: Mackenzie Nelsen
PK-5th Grade Winner: Nathan Renner & Taren Sailor
***There was a tie this month.**
Each month MPS teachers recognize one student from grades PK-5, 6-8, and 9th-12th grades. Students can only win once per school year. The criteria are posted below.
RESPONSIBILITY
Uses class time wisely and completes class work in a timely manner.
Completes homework in a timely manner.
Follows directions and gives 100% of their best effort in class.
They are actively engaged in their learning.
Students follows class and school rules
RESPECTFULNESS
Helps and respects others in our school community.
Honest, trustworthy, and respectful.
Model Citizen-polite to other students, staff, volunteers, and all guests and visitors
Uses kind and positive words.
Listens to the teacher.
SAFETY
Follows playground rules, game rules, class/school rules.
Keeps hands and feet to self.
No detention or referrals to the office.
Uses objects appropriately and with care.
Walks in the hallways and to the cafeteria.
Behaves and follows all rules on the bus.