Maywood's FFA Team Aspires to Pinnacle at State
---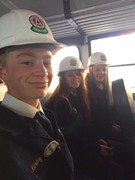 Industry Tour: Tate Hartley, Kayla Minary, and Paige Wood
---
On Wednesday, April 6-8th the Maywood FFA Chapter made the long trek down to Lincoln, Nebraska for the 88th Annual State FFA Convention at the Pinnacle Bank Arena. Though the grass was wet with dew, and dark skies threatened foul weather, this setting didn't dampen the mood of the FFA members. They were excited and anxious to get to their destination. A chance to compete at the State Convention is what the FFA kids have been striving for this whole year.
Here are the results from State FFA Convention:
Sr Livestock Judging - Red Ribbon, 15th out of 48 teams
Bryar Gerlach-red ribbon
Tucker Hartley-white ribbon
Kaely Perkins -white ribbon
Floriculture-White Ribbon, 22nd out of 48 teams
Marisa Foster -purple ribbon, 5th high individual.
Nursery & Landscape -Blue Ribbon, 7th out of 24 teams
Marisa Foster-blue ribbon
Paige Wood -blue ribbon
Tucker Hartley -red ribbon
Bailey Brown -red ribbon
Ribbons are distributed in the following proportions
10% Purple
15% Blue
15% Red
10% White
---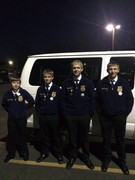 Livestock Judges, L-R: Kaely Perkins, Tucker Hartley, Bryar Gerlach, and Von Fritsche
---
In addition, the Ag Demonstration team of Marisa, Bailey, & Tucker earned a bronze emblem recognition.
Overall, our teams did very well! There are currently 170 FFA Chapters in the state, so for our kids to be ribbon in all of their events is something to really be proud of! For all the competitions that take place at the State Convention, the participants that place in the top 50% all receive a ribbon. The top 10% of participants receive a purple ribbon, and the next 15% of participants receive a blue. The participants that placed in the 25% to 40% range, receive a red ribbon, and participants that placed between the 40%-50% range receive a white ribbon. Each contest had at least 36 teams and over 144 individuals participated in each contest.
---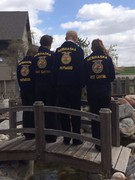 Floriculture Team, L-R: Kayla Minary, Bailey Brown, Bryar Gerlach, and Marisa Foster
---
If you happen to see any of these FFA members please congratulate them for their hard work, dedication, and success that they have had this year in the Maywood FFA program. Thanks for all of your support throughout the year! Our annual FFA banquet will be on Monday, April 25th, at 6:30 p.m. at the community hall.