MPS Art Students NOT Snowed Under by Competition
---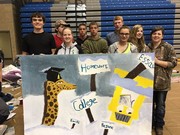 Back row left to right are: Dillian Bomberger, Devon Littel, Dayne Littel, Pake Johnston, and Amanda Smith. Front row left to right: Joey Nielsen, Tyler Esslinger, Carol Nielsen and Brandi Bomberger.
---
The McCook Community College Art Department staged its 40th annual paint-in competition Friday, April 8th, at the Peter and Dolores Graff Events Center, located on the MCC campus. More than a dozen area high schools and one Kansas school attended. This year teams of high school artists created works based on the theme "Snowed Under" announced by judge Theresea Reeves, Oberlin area artist and MCC student. Judges usually give students a lot of room for interpreting the theme. For instance, "Snowed Under" can have many different meanings and nuances. To one team it may represent feeling overwhelmed by work and responsibilities; to another it could be the weight of school and everything associated with it.
In addition to competing for 1st place in the overall theme, artists also vie for recognition in the following seven categories: Digital Work and Photography, Three-Dimensional, Pottery, Mixed Media, Prints/Printmaking, Drawing, and Painting
---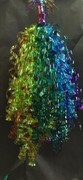 "Cascades"
---
Schools competing in this year's competition included: Hitchcock County, Wauneta-Palisade, Medicine Valley, Maywood, Southwest, Gothenburg, McCook, Ogallala, Dundy County-Stratton, Arnold, Sutherland, Lexington, Southern Valley, Cambridge, Chase County, Callaway, and Norton Community High School.
In 3-Dimensional category, Devon Littell placed 3rd with his piece titled "Checkerboard;" Also in 3-dimensional and earning JUDGES' CHOICE were Joey Neilsen, Jace Walthers, and Jacob Williams with their Chilhuly-inspired work titled "Cascades." Chihuly uses glass as its medium and is named after sculpture, Dale Chihuly, an American glass sculptor. His large-scale sculptures are considered unique to the field of blown glass. The sculpture created by Nielsen, Walthers, and Williams was made of plastic rather than glass, but it is a faithful interpretation of Chihuly's works.