Great Expectations in Classrooms
Industrial Tecnology: For the past few weeks a group of students have been working on a project benefiting the Woodworkers Fighting Cancer Charity. Woodworkers Fighting Cancer is an annual fundraiser put on by Marc Spagnuolo, aka The Wood Whisperer. For the past few fundraisers, Marc designs a kid related wood working project; he provides the plans, material list, and a video documenting how to build the project. When individuals build the project they are asked to submit a picture of the finished project via Twitter, Facebook, or email. For every project built, Marc and his wife donate $5 to the Cancer Research Institute; this year's donation have totaled over $17,000 and will continue to rise until the November 30th deadline.
What I like about these projects is their simplicity. The project's joinery and building techniques are relatively simple and the materials are available at most lumber yards and home centers. This makes for a great introduction project. Throughout the build the students have been able to work on a number of different skills including: using materials efficiently, as this project is made using a single 4x8 sheet of plywood, learning to use the table saw to break down the sheet of plywood and cutting different types of joinery; and finally, cutting curved and profiled parts with the band saw and jig saw and then using the router table and a template to make all like parts exactly the same. They have also implemented the use of glue, screws and dowels to connect table and chair parts together. Students have also learned finishing techniques, including painting and using a sprayer to apply a clear top coat.
From the very beginning the students have expressed great interest in this project; they were excited to get started and have remained excited to see the finished product. In all, we are building three table and chair sets. In Advanced Projects Paul White and Keegan Dibbern are each building a set of their own and in Intro to Industrial Technology Kyle Fackler and Seth Robinson are building a set together. There have been a few mistakes along the way but the students have learned many valuable lessons and skills during the construction process. These newly learned skills will be put to use during the remainder of the year, as they work on their personal projects and hopefully be beneficial for years to come.
If you are interested in learning more about out this project or maybe even participating in next year's project build you can take a look at Marc's website http://www.thewoodwhisperer.com/wfc/. On behalf of both classes I would like to thank Marc and his wife for the set of plans and the opportunity to help make a difference in the lives of others.
Reading Mastery
: This month finds us digging more deeply into Reading Strategies. Students are using the SQ3R method to "Survey, Question, Read, Review and Reflect on information texts. They are learning to turn topics into questions, read a passage, identify the key points and then put these notes in order, using Cornell note taking method. They are learning that they do not have to copy an entire paragraph, rather they can read a section, locate the main idea and put the information into their own words. They are working with context definitions, as well as practicing their fluency and decoding skills.
Digital Citizenship and Correct Use of Technology is the current topic for the 8th grade Library Skills. Students have successfully completed biographical research and writing projects. We are now using digital applications to take a look at the data they collected. These apps include Lino, Padlet, Evernote, Wunderlist and Google Keep. Upon completion of the research paper, students compiled data they collected about their famous persons by creating a "canvas" on Lino. They then compared and contrasted their authors looking at ages, location, books publish, children/family, awards and genres. Here is a picture of students, lined up according to the age of the authors they studied. Students cited information and organized data according to their research. They discovered that many authors started writing, as a hobby or an outlet at young ages. Additionally, several of the authors had their books made into movies.
In 6th grade Reading, students are in the process identifying main ideas and summarizing text. We've been looking at author's viewpoint and making inferences where the author give us an idea, but we have to figure out the rest. Students are using their computers to access dictionary definitions for unknown words they find in their novels. Our word study includes going back to the reading to identify the context definitions. To accomplish this they have to use synonyms that will fit into the sentence, without repeating the dictionary definition, no word repeats… what a challenge! We are also using writing to make the novels more meaningful. Students will "weave" themselves into the story by creating their character, designing a role/job that could be included in the book, and then describing the scene or situation that would appear (with them in it) if the book were made into a movie! The stories will go through the editing and revision process and later be published on Padlet. We will post the board to Twitter when it is complete.
Science: In 8th grade science we are exploring the world of genetics and heredity. Students are gaining knowledge of how traits are passed from
Being able to model how traits pass to different generations in an important part of genetics; using tools makes that process a little less daunting. Punnett squares and Pedigrees, while sometimes difficult to assemble and analyze, give us an opportunity to track traits through multiple generations as well as be able to predict possible outcomes for potential parent crosses.
Here's a list of what's happening in other science classes:
Physical Science - Freshmen are in a HEATED exploration of thermal energy
Biology - Sophomores are in CELL block A (A for animal) - learning the in's and out's of organelles and transport
Chemistry - Students are getting CHARGED up for the electron cloud and atomic orbitals
Physics - Students are ACCELERATING their knowledge of motion and velocity at an increasing rate
General Science - Students are SPEEDING into our unit of movement, displacement, and velocity.
Thanks for checking in on what we've got going on in science - where EVERY day is gene day.
English: "What a miracle it is that out of these small, flat, rigid squares of paper unfolds world after world after world, worlds that sing to you, comfort and quiet or excite you. Books help us understand who we are and how we are to behave. They show us what community and friendship mean; they show us how to live and die." – Anne Lamott
What a wonderful semester it's been so far! Each of the 7th-11th grade English classes have either finished or are in the process of reading their first novel of the year. Between short stories from our textbooks, learning how to write various kinds of essays (descriptive, compare/contrast, persuasive, etc.), and reading novels…the kids are definitely keeping busy in English class!
8th grade – Bah Humbug! Not really…but if you were to ask any 8th grader, they can now tell you where that quote originated. We began reading A Christmas Carol in class this week, and they all seem eager to dive into Dickens' work and read this holiday classic! We're in the process as well of learning how to write descriptively. We have been looking at photos in class and expanding our vocabulary as to how to describe certain qualities, and then they use their creative writing skills to come up with a story based on the photo. If you know an 8th grader, ask to read their story! They AMAZED their teacher with their creativity!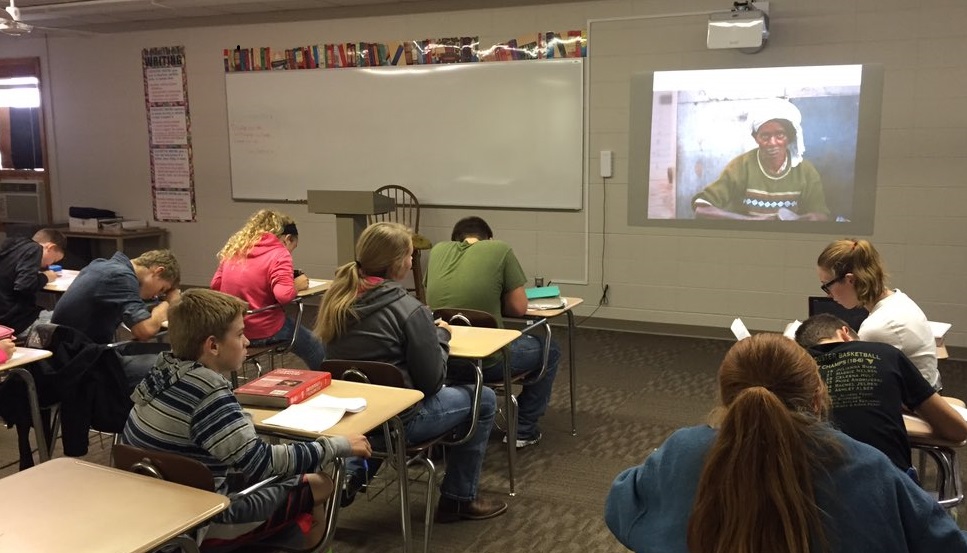 10th grade – The sophomore class has been busy as well this year! We wrapped up our Fahrenheit 451 unit a few weeks ago, and they all seemed to really enjoy Bradbury's work. With dystopian novels and movies being so prevalent today, each student seemed to really connect with the novel at some level. Two weeks ago we began our last unit of the semester (it's crazy to think how fast this year is flying by!). The students are all working on how to research, cite, outline, and write a lengthy research paper. After watching a documentary on the 1960s, they each got to choose a topic specific to that decade that they want to research to show how their specific topic was a catalyst for change in the United States. They are up to their eyeballs in research right now, and I am incredibly eager to see what they have found!
To keep up-to-date on all 7th-11th grade English classroom happenings, feel free to follow me on Twitter! @mrskinnisonsays